Patrick J. King/Patrick A. Nash House
Photos by Kevin Brown of Pleasant Home Foundation/The George W. Maher Society.
3234 W Washington Blvd
Chicago, IL 60624
Built in 1901-1902
A mix of Prairie, Sullivanesque, and Colonial Revival styles, the facade of this East Garfield Park Home in Chicago is both elegant and imposing. It's composed almost completely of limestone, featuring picture windows and a large, centralized main entrance on the first story, Maher's take on the two Chicago windows on the second story (in this design, the outer openings each contain a fixed sash, while the center opening contains a double-hung window), and intricate detailing found on the capitals of columns and in the arch above the third-story Palladian window. It also features Maher's take on a mansard-style roof, which slopes back slightly from the limestone facade on the home's third story.
The use of limestone as a building material, recessed 2nd floor central window openings divided by columns, and a third-story dormer containing a Palladian window also divided by columns can be traced to another Maher design from 1901 in the North Shore suburb of Evanston – the James Patten House. Though the King/Nash house features some blocks of rough-cut limestone, much of its surface is smooth compared to the Patten House, which was composed of mostly rough-cut blocks. The homes also shared the same organic motif – a part of Maher's Motif-Rhythm Theory – the thistle. 
Other Maher designs from this period which also display similar characteristics: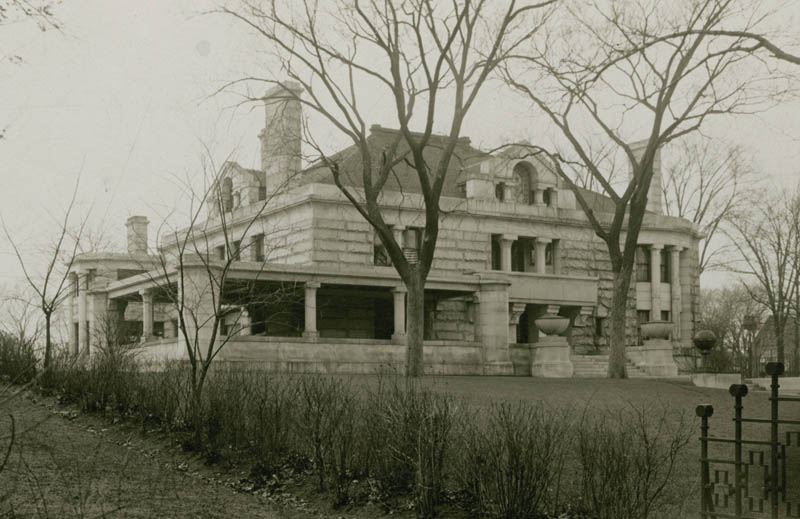 The James A. Patten House
1901, Evanston, IL | Demolished 1938
Image from the collection of the Newberry Library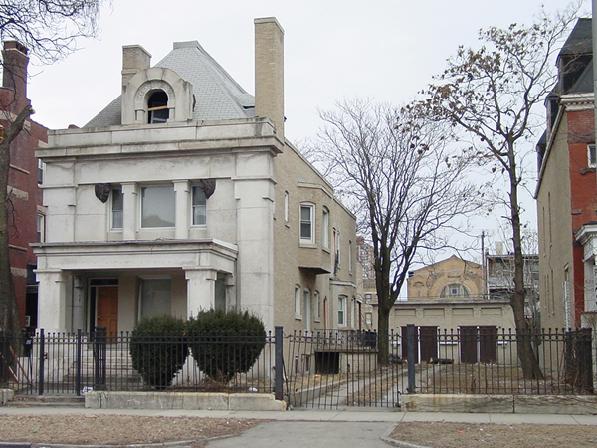 The Davey Pate/Charles Comiskey (founder of the Chicago White Sox) House 
1901 | 5131 S. Michigan Ave, Chicago
Image from the Chicago Historic Resources Survey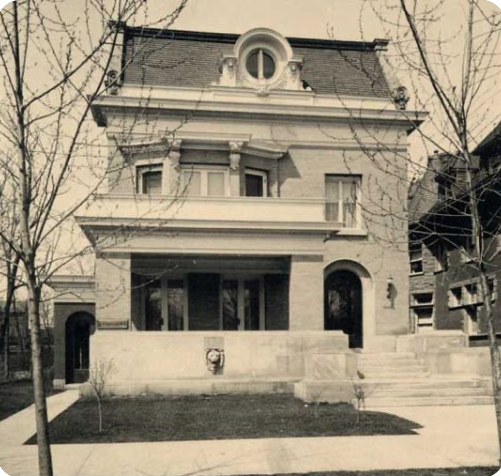 4506 N Sheridan Rd, Chicago
The home was constructed from 1901-1902 for the sum of $80,000 (that's roughly $2.8 million today) for wealthy businessman, politician, and gambler Patrick "Patsy" J. King and his wife Mary at what was then 1429 Washington Boulevard; Chicago implemented an address system change in 1909, and its address since has been 3234 W. Washington Boulevard. 
King was so highly politically connected to Mayor Carter Henry Harrison IV's administration, three policemen were detailed to guard the property during its construction at the city of Chicago's expense – of course, this didn't go over too favorably in the press at the time. While King had been involved in gambling and policy (illegal lotteries operating throughout the city at the time) predating Harrison IV's administration, it seems the mayor's first four terms in office – 1897-1905 – were particularly profitable for him. 
The Kings lived in their new home for just 5 years, selling it following a 1905 threat from Patsy "the policy king" to "shake the dust of his feet off on Chicago and quit the city, never to return." It seems King was so exasperated by the suppression of policy playing in Chicago following Mayor Harrison's defeat in 1905, that he vowed to sell his home to the first person to offer $50,000 – that's $30,000 less than it cost to purchase the land and build the home, and equivalent to $1.7 million today. He accepted that $50,000 offer – plus $10,000 for the home's furnishings and fixtures – from John B. Allen.
Although King promised never to return to Chicago, it seems, according to census records, he gave the city at least one more chance, renting an apartment unit less than a mile away from his former home at 1206 North Kedzie in 1920. By 1930 the family had settled in Oak Park, where Patrick lived until his death in 1941 at the age of 73.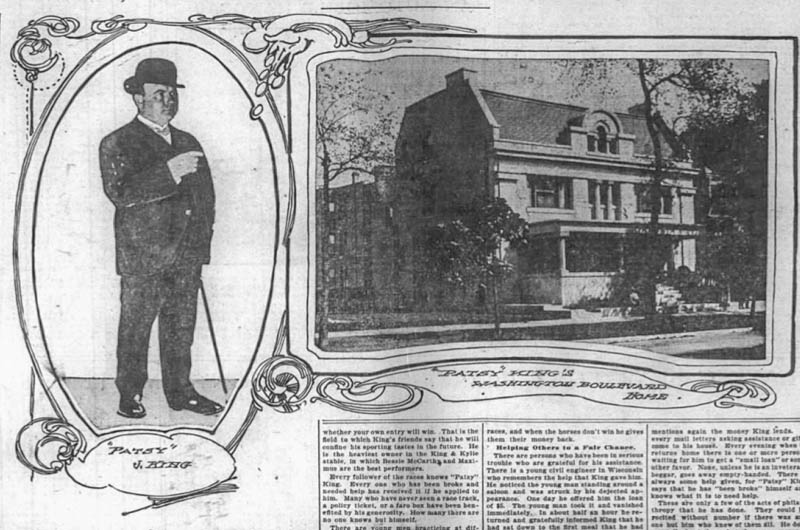 Patrick J. King
May 24, 1903 issue of The Inter Ocean
John B. Allen ultimately owned the home for an even shorter period of time than the Kings. In 1907 he sold it to John M. Baker – a "chemist of national fame" and "founder of a company manufacturing bottled drinking water" according to his 1921 obituary – again, for $50,000.
Further research is needed to fill in the blanks between 1907 – 1919, though we found banker and Civil War veteran, William Kaspar, living in the home with his wife Paula, son Eugene, and Anna Olson, their maid, in 1920. We aren't sure of when the Kaspars purchase the home, but William died in 1922 at the age of 87, and by 1925 the home seems to have been divided into apartments – at least in some form – with one of the occupants at the center of quite the mystery…

John E. Glenn, described by the Chicago Tribune as an "eccentric retired capitalist," was found dead in the home in a gas-filled room in March of 1925. Ruled a suicide resulting from a purposely-opened gas line in a light fixture, the coroner and Glenn's son, a doctor, questioned that judgment when they found 14 broken ribs in Glenn's body. We were unable to find the results of any further investigation – if one occurred – but a month later, a listing for 4 and 2-room "modern" apartments with kitchenettes at 3234 Washington Blvd can be found in the Tribune.
A short time after Glenn's death, the home was purchased by politician and businessman Patrick A. Nash (1863-1943) – a democratic national committeeman, Cook County democratic chairman, and owner of a sewer tunneling company and Shandon Farm stables in Lexington, KY (still in operation!). The Nash family lived just a few blocks away from this home for years before purchasing it in 1925, at 2946 Washington Blvd.
While Nash was heavily involved in politics for much of his life, he rarely held an elected position, serving on the board of review from 1918-1924, and filling a vacancy on the board of assessors due to a member's death – Nash only held the position for 9 months. He opted instead to play of the role of "silent partner" in the long-running Kelly-Nash democratic organization with Edward Kelly.
Following the death of Chicago mayor Anton Cermak in 1933 (Cermak was shot in the lung by a man attempting to assassinate President Franklin D. Roosevelt) the position of mayor was Nash's to decline – which he did, opening the door for Kelly to accept the position. This is when Nash rose from leader of the Cook County democrats to that of a national committeeman, succeeding Cermak in that role instead, and leading a vast political organization controlling an estimated 30,000+ jobs. 
Nash lived in the home until his death in 1943 from a heart attack at the age of 80; he was hospitalized with pneumonia at the time. Newspapers around the country featured versions of his obituary, emphasizing his role in Chicago and national politics.
More research is needed to follow the history of this home past Nash's death in 1943, but the 1956 obituary of Vera Hahn – a former child dancing star – lists 3234 Washington Blvd as her address, and we found evidence of the home's use as a nursing home from the 1950s through the 1960s. Current property records list it as a single family home.
While the exterior of the home's condition could currently be described as poor, it's at least in a relatively original state. The same likely can't be said about its interior, as some original pieces were removed and donated to museums in the 1980s – we've been unable to verify exactly why this happened, although, the home was also designated a Chicago Landmark during the same period. Scroll down to view two original fireplaces executed by artist Louis Millet for the home.
Click on an image below to enlarge.
_____________________________